Competencies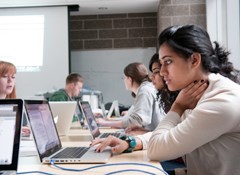 Core Engagement Competencies (First Requirement)
The first requirement for the Graduate Certification in Community Engagement is the core engagement competencies. For the 2020-2021 academic year, the core engagement competencies include topics:
Foundations of community-engaged scholarship
Variations in community-engaged scholarship
Initiating community partnerships
Sustaining community partnerships
Techniques for community collaboration
Critical thinking and critical reflections
Community-engaged research and creative activities
Community-engaged teaching and learning
Community-engaged service and practice
Asset based community engagement
Capacity building for sustained change
Systemic approaches to community change
Evaluation of community partnerships
Quality, excellence, and rigor in peer review
Communicating with public audiences
Communicating with academic audiences
Documenting your engagement accomplishments
Successful community engagement careers
Working with diverse communities
Ethics and community-engaged scholarship
Students usually fulfill this requirement by attending seminars coordinated by University Outreach and Engagement. The series is offered on an annual basis, in person, Friday afternoons from 1:30-3:30 PM during Fall and Spring semesters.
Students who have completed coursework that addresses a particular core engagement competency may ask to have the syllabi, reading lists, and assignments evaluated as potential alternatives to the required seminars. Contact the program coordinator to request such a review.
In rare instances, students may request a make-up session to review materials from the core engagement seminars.
Skip to view Spring 2021 Seminar Information
Seminar Schedule 2020-2021
Graduate Certification in Community Engagement
Last Updated February 3, 2021
This table lists Seminars and follow-up sessions available for the Graduate Certificate in Community Engagement for Fall 2020.
Fall Semester 2020

Thurs., Sept. 3


(optional)


1:30-3:30 pm




Zoom

Information Session about Graduate Certification in Community Engagement

Fri., Sept. 11




5:00 pm

On-Line Applications & Nominations Deadline

Fri., Sept. 18


1:30-3:30 pm


Seminar 1: History and Foundations of Community-Engaged Scholarship

Fri., Sept. 25




1:30-3:30 pm




Seminar 2: Variations in Community-Engaged Scholarship

Fri., Oct. 2




1:30-3:30 pm




Seminar 3: Initiating and Sustaining Community Partnerships

Fri., Oct. 9


(extra long)


1:30-4:00 pm




Seminar 4: Engaging with Diverse Communities

Fri. Oct. 23




1:30-3:30 pm




Seminar 5: Techniques for Community Collaboration

Fri., Nov. 13




1:30-3:30 pm




Seminar 6: Community-Engaged Research and Creative Activities

Fri., Nov. 20




1:30-3:30 pm




Seminar 7: Community-Engaged Teaching and Learning

Fri., Dec. 4


(out of sequence)


1:30-3:30 pm




Seminar 8: Community-Engaged Service and Practice
This table lists Seminars and follow-up sessions available for the Graduate Certificate in Community Engagement for Spring 2021.
Spring Semester 2021

Fri., Jan. 15


1:30-3:30 pm


Seminar 9: Documenting and Communicating Engagement Accomplishments

Fri., Jan. 22


1:30-3:30 pm


Seminar 10: Community Engagement Across the Career Span

Fri., Jan. 29




1:30-3:30 pm




Seminar 11: Coalition Approaches to Community Engagement

Fri., Feb. 12




1:30-3:30 pm




Seminar 12: Asset-based and Capacity-Building Approaches

Fri., Feb. 26


(extra long)


1:30-4:00 pm




Seminar 13: Cross-Cultural Dimensions of Community Partnerships

Fri., Mar. 19


(out of sequence)


1:30-3:30 pm




Seminar 14: Evaluation of Community Partnerships

Fri., Apr. 2




1:30-3:30 pm




Seminar 15: Peer Review of Community-Engaged Scholarship

Fri., Apr. 16


(extra long)


1:30-4:00 pm




Seminar 16: Communicating with Public Audiences

Fri., Apr. 30




1:30-3:30 pm




Seminar 17: Communicating with Academic Audiences